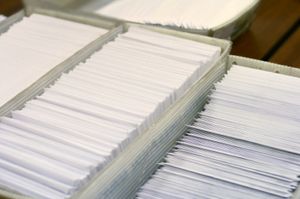 DIRECT MAIL & MARKETING
---
Our broad capabilities provide cost-effective solutions from small "triggered "communications to multi-million piece acquisition programs. We work closely with our clients to solve a broad spectrum of marketing challenges and have gained considerable expertise in helping develop strategic and effective marketing campaigns. Complementing your in-house and/or agency teams, our marketing services group can add real value to your creative, planning and development processes.
EXPERTISE
---
Creative development and design
Format testing and printing consultation
Mail tracking and in-home delivery date management
Analytics and profiling services
Multi-Channel Engagement including QR codes, PURLs
Mobile and Email Marketing services
List brokerage services
Data processing services and management
Expertise in Postal Optimization processes
CREATIVE SERVICES
---
We believe that consumers should make lasting connections with brands. Our designers use their unique skills to ensure that the recipients of your direct communications become engaged with its message. In fact, bringing our clients message to life is our mission!
DATA SERVICES
---
Rapidly changing communications technology and techniques provide ever-expanding opportunities to reach your customers. Salem One keeps you at the forefront of these advancements, so that your direct campaigns always achieve optimal results. We place a team of analytics experts at your fingertips that can easily manage files ranging in size from several hundred to multi-million records. We also guarantee that your confidential information will remain safe and secure.
TRACKING
---
We can help you take control of how your direct mail campaign moves through the postal system with "My Tracking" services from Salem One through the use of an Intelligent Mail Barcode. Our system can track the delivery of every piece of your mailing and provide you with daily reports, proactive problem solving, and confirmation through our constant monitoring of your campaign. We can help target in-home windows and even integrate radio, T.V., e-mail, and other advertising to create a powerful and effective marketing mix.
POSTAL OPTIMIZATION
---
Our subject matter experts focus on channels to ensure that our clients maximize their marketing investments. Because we have mastered the complexities of obtaining postage savings whenever possible, we know that we can help you take advantage of every savings option for optimizing postal discounts. Direct mail still produces some of the highest response rates in the industry and our skills can help you save even more!